Johannesburg to Gorillas
Booking Dates
07/02/2023 through 11/19/2024
Travel Dates
07/02/2023 through 11/22/2024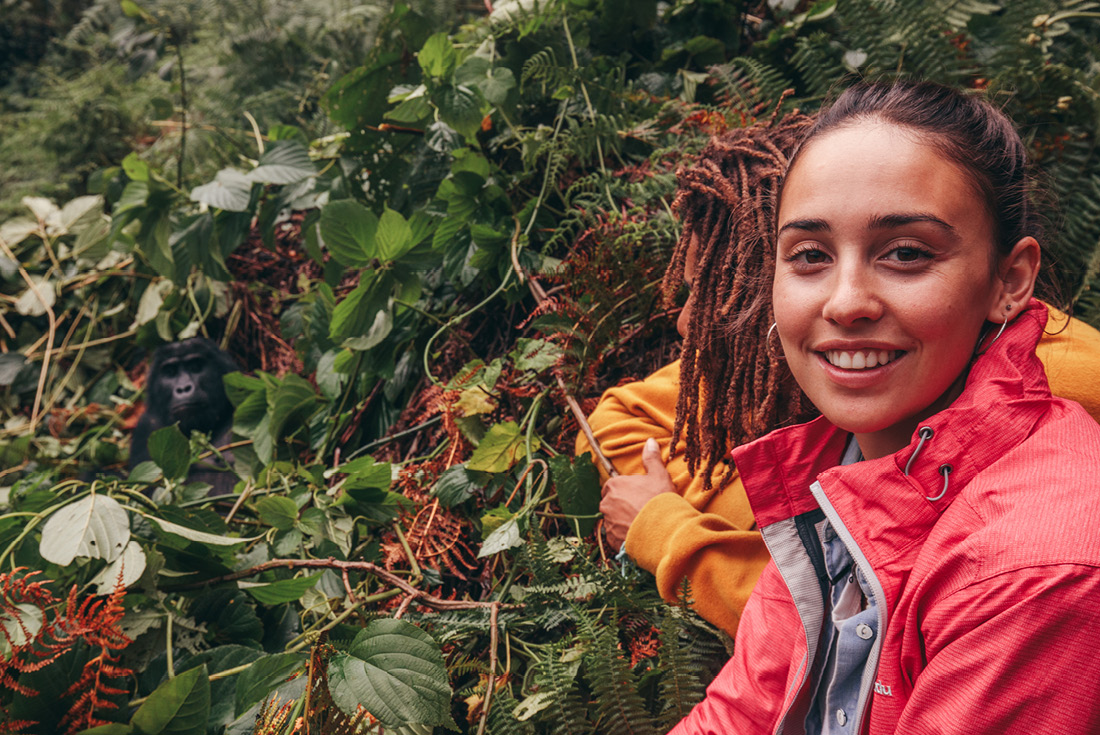 Johannesburg to Gorillas

Africa's all about the outdoors – rainforest, national parks, waterways, coastlines and a whole load of savanna. See the best of Africa's natural attractions on a 52-day adventure from Johannesburg to Nairobi. Witness the power of Victoria Falls and the sprawling plains of the Serengeti, have close encounters with mountain gorillas and be warmed by the welcoming hospitality of locals in Malawi. Camp on balmy beaches in Tanzania, trek through steamy rainforests and mokoro down the Okavango in search of unique wildlife. Whether you're spotting the Big Five, lazing on Zanzibar's idyllic shores or interacting with Maasai warriors, this all-encompassing African journey will immerse you into the wild lands of Africa.

Activities
Khama Rhino Sanctuary – Sunset Game Drive Open Vehicle
Okavango Delta – Mokoro safari
Okavango Delta – Sunrise Walk
Okavango Delta – Mokoro safari
Nata – Makgadikgadi Salt Pans 4×4 Excursion
Chobe National Park – River Cruise
Victoria Falls – Victoria Falls Wildlife Trust Visit
Masvingo – Great Zimbabwe Ruins guided visit
South Luangwa – Jewellery workshop Project
South Luangwa National Park – 4×4 Afternoon Game Drive
South Luangwa National Park – 4×4 Dawn Game Drive
Mikumi National Park – 4×4 Game Drive
Irente – Lushoto hike
Irente – Local lunch
Ngorongoro Forest – Elephant Cave Trek
Ngorongoro Crater – 4×4 Game Drive
Serengeti National Park – 4×4 Game Drive
Serengeti National Park – 4×4 Game Drive
Serengeti National Park – 4×4 Game Drive
Mto wa Mbu – Cooking class, crafts & village walk
Lake Nakuru – Overland Vehicle Game Drive
Lake Nakuru – Morning Overland Vehicle Game Drive
Queen Elizabeth National Park – Overland Vehicle Game Drive
Bwindi National Park – Mountain Gorilla Permit & Trek
Kericho – Tea plantation visit
Masai Mara National Reserve – 4×4 Game Drive
Masai Mara National Reserve – Full Day 4×4 Game Drive
Loita Hills – Maasai Village Visit
Highlights
Support local conservation efforts by visiting the Khama Rhino Sanctuary, the only place left in Botswana where both black and white rhinos reside.
Go wildlife-spotting with your small group and expert guides in Chobe National Park, South Luangwa National Park, the Serengeti and Ngorongoro Crater. The Big Five have never been so close!
Camping on a remote island in the heart of the Okavango wilderness is an experience you'll never forget. As the sun sets and night falls, the sounds of Africa come alive.
Journey from the interior plains out to some idyllic Indian Ocean hotspots. Take a stroll along the shores in Dar es Salaam and consider strolling through spice plantations in Zanzibar.
With permits included in the price of the trip, take a trek through Uganda's steamy forests to seek out rare mountain gorillas and spend an unforgettable hour in their presence.
| Day | Description | View All |
| --- | --- | --- |
| Day 1 | Johannesburg | Details |
| Day 2 | Khama Rhino Sanctuary | Details |
| Day 3 | Maun | Details |
| Day 4 | Okavango Delta | Details |
| Day 5 | Okavango Delta | Details |
| Day 6 | Maun | Details |
| Day 7 | Nata | Details |
| Day 8 | Chobe National Park | Details |
| Day 9 | Victoria Falls | Details |
| Day 10 | Victoria Falls | Details |
| Day 11 | Victoria Falls | Details |
| Day 12 | Bulawayo | Details |
| Day 13 | Bulawayo | Details |
| Day 14 | Masvingo | Details |
| Day 15 | Harare | Details |
| Day 16 | Lusaka | Details |
| Day 17 | Petauke | Details |
| Day 18 | South Luangwa National Park | Details |
| Day 19 | South Luangwa National Park | Details |
| Day 20 | Lake Malawi | Details |
| Day 21 | Lake Malawi | Details |
| Day 22 | Chitimba | Details |
| Day 23 | Iringa | Details |
| Day 24 | Mikumi National Park | Details |
| Day 25 | Dar es Salaam | Details |
| Day 26 | Stone Town | Details |
| Day 27 | Zanzibar Northern Beaches | Details |
| Day 28 | Zanzibar Northern Beaches | Details |
| Day 29 | Stone Town / Bagamoyo | Details |
| Day 30 | Usambara Mountains | Details |
| Day 31 | Usambara Mountains | Details |
| Day 32 | Arusha | Details |
| Day 33 | Karatu | Details |
| Day 34 | Ngorongoro Crater / Serengeti National Park | Details |
| Day 35 | Serengeti National Park | Details |
| Day 36 | Mto wa Mbu | Details |
| Day 37 | Nairobi | Details |
| Day 38 | Lake Nakuru National Park | Details |
| Day 39 | Eldoret | Details |
| Day 40 | Kampala | Details |
| Day 41 | Kalinzu Forest | Details |
| Day 42 | Queen Elizabeth National Park | Details |
| Day 43 | Kisoro | Details |
| Day 44 | Gorilla Trek | Details |
| Day 45 | Gorilla Trek | Details |
| Day 46 | Mbarara | Details |
| Day 47 | Jinja | Details |
| Day 48 | Jinja | Details |
| Day 49 | Kericho | Details |
| Day 50 | Masai Mara National Reserve | Details |
| Day 51 | Masai Mara National Reserve | Details |
| Day 52 | Nairobi | Details |